Coronavirus Scams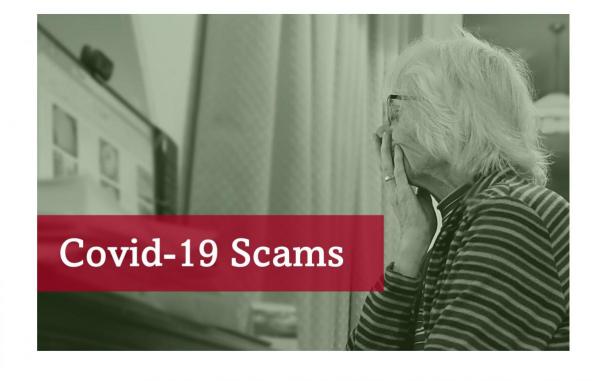 We are receiving reports of scams that prey on our coronavirus fears. If the information on this page doesn't answer your query, be sure to get in touch with us!
---
Types of Scams
Coronavirus scams are scams that prey on our vulnerabilities and lack of knowledge. Understandably, we want what's best for our loved ones and will take steps to ensure we're free from the virus, but scammers will take advantage of this.
Vaccine and Testing scams
In the UK, coronavirus vaccines will only be available via the National Health Services of England, Northern Ireland, Wales and Scotland. You can be contacted by the NHS, your employer, a GP surgery or pharmacy local to you, to receive your vaccine. Remember, the vaccine is free of charge. At no point will you be asked to pay. We are aware of many scams offering vaccines to UK residents. If you receive an unsolicited call, text or email, you should contact your GP to check its validity. 
More information is available on the ActionFraud website.
Web Streaming Services such as Netflix and Disney+
With many of us spending more time at home, web streaming services have reported a surge in demand as we look for new ways of keeping entertained.
We are aware of scams that use the name of well-known web streaming services such as Netflix and Disney+. Fake websites are created to look like the real thing and money is taken from consumers but no service is provided. Once the scammers have your card details, they can continue taking payments from your account.
If the website is not asking for any payment, they could be using your details for what's known as 'data harvesting'. This is where a scammer will collect as much data on you as possible and use what they have to either sell to other scammers or commit ID fraud using your details.
We are aware of various different apps aimed at providing updates on the virus. These apps are often known as 'coronavirus update' apps and contain a ransomware which locks the users device and demands a payment to release it.
These apps are often only available on unofficial websites, and not on the usual app platforms such as Apple Store or Android (or Google) Play Store.
Authorities all over the UK have reported an increase in home visits from fraudulent healthcare workers that claim to carry out door to door testing for coronavirus. Often these workers are dressed in full hazmat suits. In these scams, the scammer is not after one thing in particular - once they have set foot in your property, there's no telling what they'll do.
We are aware that these scammers are targeting the most vulnerable in our society, but with our collective fear and lack of knowledge over a situation that is so alien to us, anyone can be affected.
It is worth noting that there is no mass testing for coronavirus so if you get a knock on the door from someone claiming to be carrying out a test, politely  decline their offer!
Text Message or 'smishing' Scams
You may have heard of the term 'phishing', which concerns scam emails that are designed to look like they've come from a legitimate sender. 'Smishing' is a similar concept, only it applies to text (or SMS) messages that are fake but designed to look like they come from an official source.
One common 'smishing' scam is a text from what looks like the official Government website www.gov.uk. The text states that you have been observed breaching the 'lockdown' rules and that you are now being fined. If you click on the link included in the message, you are taken to an official looking website to pay the fine, but it's all fake and you're not paying the fine, you're giving money to the scammer.
Other reasons a scammer may send you a text message includes a 'goodwill' payment from the Government, and free school meals.
If you believe you are the victim of a fraud, please report this to Action Fraud as soon as possible by calling 0300 123 2040 or visiting www.actionfraud.police.uk.
---
Advice
Coronavirus has had a big impact on our everyday lives so it's not uncommon to feel vulnerable now and may even let our guard down when it comes to spotting scams. Here's our advice for staying one step ahead of the scammers:
Always look for the padlock symbol when visiting a website. This tells you that any data you enter is secure
If you visit a website from a link in an email or text message, check that the website it takes you to matches the organisation or business. If in doubt, visit the website directly from your browser instead of using the link
If you are asked to pay for goods or services via bank transfer, this may be a red flag. Legitimate sellers will usually offer a choice of payment options. You should only pay for goods or services via bank transfer if you are satisfied with the legitimacy of the business, as these payments can often be unrecoverable should things go wrong 
Check the grammar and spelling of a website. If this is poor, it could indicate the website is a scam
---
What the UKICC is Doing
The UK International Consumer Centre has no powers to take action against the scammers. That doesn't mean we can't help - in fact, the information on our database informs the relevant organisations of changing consumer behaviour. The more enquiries we receive, the more we can feed back to enforcement bodies that do have the authority to take action. These bodies often do not have public-facing services so are reliant on the information provided by organisations such as ours. Put simply, your enquiry to us will never be a waste of time - you can be assured that the information you provide us will go on to inform changes in law and enforcement of criminal behaviour.
---