Buying Digital Content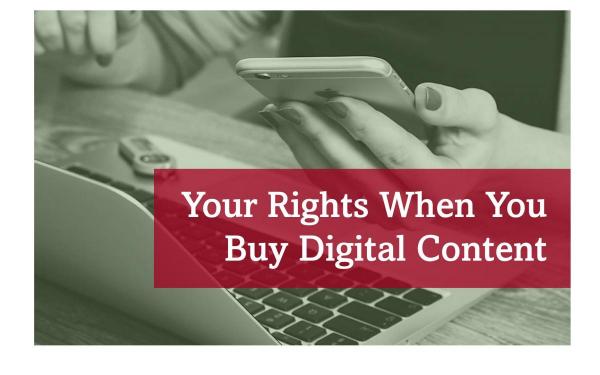 The Consumer Rights Act 2015 introduces new, specific rights to consumers when purchasing digital content from a business in the UK, which didn't exist with previous laws. 
---
What is Digital Content in UK Law?
Digital content is data which is intended for use in digital form. For example, a gaming content, whether supplied on a disc or in a downloadable format. 
The Act covers content that you have paid for, although this may extend to content purchased with gift cards, etc. Free content is not normally covered unless you have had to make a purchase to get it. An example would be a demo offered free by a developer with a purchase of another paid-for app. 
It can get confusing to some people whether a you have paid for digital content or for a service. But if in doubt, you can contact us for further guidance.
---
Is your Digital Content Faulty?
You can expect similar standards you'd normally expect from physical goods. The Consumer Rights Act considers three main standards that must be met:
Goods must be 'As Described'
Content must match the description.
Goods must be 'Fit for Purpose'
If you aren't able to use the content as you would normally expect, it may not be fit for purpose. For example, if you purchased a video game for a Playstation, it would not be fit for purpose if it only played on an Xbox.
Goods must be 'Of Satisfactory Quality'
This means that the content should be free from defects and of a quality that a reasonable person would expect. 
---
What Remedies Are Available?
Right to Repair or Replacement
The consumer has the right to request either a repair or replacement of the content. This must be fulfilled within a reasonable time and without further cost or inconvenience to the consumer. 
Where is repair or replacement is not possible, or does not rectify the problem. The consumer may be entitled to a partial refund. A full refund can be given where appropriate, but in most cases it is usually a price reduction based on the severity of the fault. Once the company agree to refund this should be made in 14 days.
Right to Compensation if the Content Damages your Device
If the purchased digital content damages your property, you may be able to reclaim the cost of repairing or replacing the property. For example, if a purchased app makes your phone glitchy or deletes some other paid-for files, you may be able to reclaim the cost of having your phone repaired or replacing the lost files. You will be required to demonstrate proof of the damage and any costs incurred. 
---
Further assistance
This is intended as a rough guide to your rights - for more specific advice please contact us.