Airline Insolvency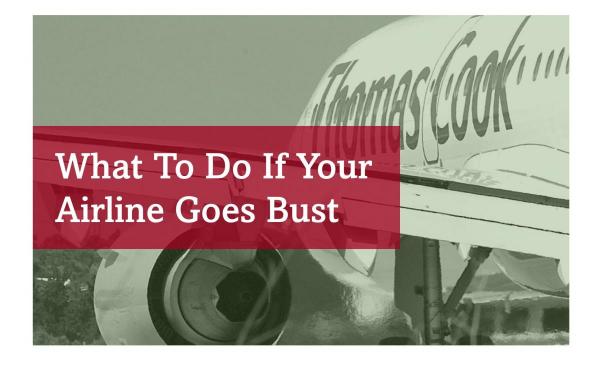 Going on holiday is an exciting time but if your airline ceases to operate, you're not left with many options.
---
Your Consumer Rights
Your rights are dependant on how you booked. If you booked a package deal, you will have rights under the Package Travel Regulations (see our page on Package Travel). In this situation, your tour operator may replace your flights with another airline so that you can continue your holiday, or you may be able to cancel and claim a refund of your entire holiday.
If you booked your flights separately to your accommodation, you may find that your accommodation is unlikely to be automatically cancelled in the event that your flights are cancelled. If elements to a holiday are booked separately, they will need to be cancelled separately.
---
What to do if your Airline Ceases Trading
If you've heard that the airline is going insolvent - or it has already gone bust - we receommend you visit the Civil Aviation Authority's website. This will be continually updated with all the vital information you should need - so keep checking it.
The airline's website will likely have the most up to date information on what is happening with your flight. If your flight has been cancelled, it should include an outline of the process for you to make a claim. Alternatively, if your flight was booked as part of a package, then it is worth contacting your tour operator to see what options you now have.
If you paid by credit card - and the flight cost more than £100 - you will be able to make a claim from your credit card company under Section 75 of the Consumer Credit Act 1974. This particular law states that your credit card company is jointly liable in the event that the business ceases trading. If you paid using a debit or a credit card, but the flight was less than £100, you may be able to claim from your bank or credit card company, under their Chargeback rules.
If you did not pay for your holiday with a credit or debit card, you have no alternate means of redress. Nevertheless, you may be able to make a claim under your travel insurance. We advise that you do this as soon as possible as many insurance companies have time limits to make a claim.
---
Travel Insurance
We advise that you take out adequate travel insurance as soon as you make your booking. This will ensure that if anything happens between the moment you book and when you fly, you will be covered by that insurance. Travel insurance claims vary between insurance companies and we advise that you check the terms and conditions of your policy. Most policies will cover airline insolvency, and we advise that you follow your insurer's claim process.
---
Air Travel Organiser's Licence (ATOL)
ATOL is a financial protection scheme that covers UK holidaymakers and provides protection for consumers when their holiday companies fall into financial difficulties or cease trading.  It's worth noting that ATOL only applies to package holidays - and covers passengers before they are due to travel, and while they are abroad. The certificate given to the passenger at the time of booking will give the passenger instructions on how to claim.