Hotels and Villa Rentals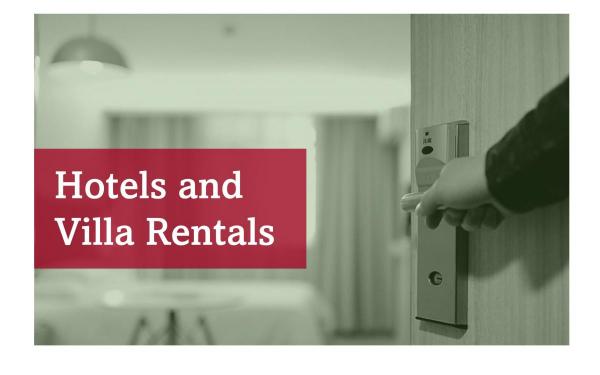 In our digital age we no longer need to venture out to the high street to book holiday accommodation.  You can book directly from the comfort of your own home with many possible websites to choose from.
---
Different Ways to Book Accommodation
Whether you book a hotel or hire a villa it is worth mentioning at this point that you may not be booking directly with the service provider.  This is because most booking websites and private property-owners sites are essentially just advertising space. These websites allow private owners and hotels to post pictures and descriptions of their accommodation so that they can let out their properties when they are not using them.
Of course, it is still possible to book direct but more often than not the booking website have special offers to entice you into booking through them.
The job of the booking website is to promote and attract people to the properties. The booking sites provide people with the ability to browse multiple different hotels and villas and compare prices so that the best offers can be found in one easy search. They often facilitate payments by reserving and blocking funds from your card or by instructing the service provider to take the payment you're your card direct.  
FACT - this does not mean that you are buying from the booking website, they are just acting as a middle man.
---
Advice Before Booking
Before you book accommodation, we would recommend that you do your research.  Far too often we hear that someone has booked a hotel first and read reviews later. Bookings related to leisure services i.e. accommodation bookings are exempt from your right to cancel so a request to cancel because there is a bad review may not be accepted.
You are using a booking website for a reason. DO NOT get in contact with an owner outside of the booking website you have found them on as you will almost certainly lose any protection that the booking website provides.  You may be asked to make payment by bank transfer directly to "avoid fees". If a villa owner contacts you to propose this, report it to the booking site.
---
If you have a Problem whilst Away
If you are on holiday and notice a problem with the accommodation or something doesn't match the description you were given it is very important that you complain immediately and in writing. The longer you leave it the less impact your complaint will have.  This should be to the owner/hotel direct so they have a chance to put the problem right however you should also contact the booking site as in most instances they can help.
Sadly, bad things can happen, even if you are prepared, but in most cases the law will be on your side and if you need clarification on your rights or you need help in contacting a hotel or villa owner please don't hesitate to get in contact with us at eccnet-uk@ec.europa.eu.
---