Timeshares and Holiday Clubs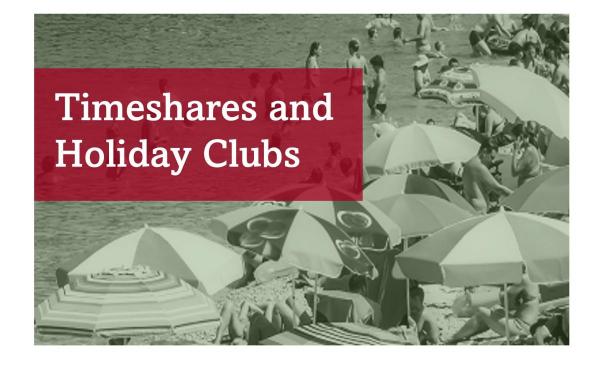 Timeshares were once very popular in the 80s and 90s and, although they still exist today, many timeshares are marketed more like holiday club memberships, so it can sometimes be difficult to tell the difference.
Both can seem to offer cheaper holidays but it can be easy to fall into a financial trap. Contracts can sometimes be cleverly worded to get around the legislation so it's really important to know your rights!
---
What is a Timeshare?
A timeshare contract is where the consumer pays to use overnight accommodation for more than one period of occupation, usually for one or more weeks in a property on an annual basis. The contract must last more than one year or be capable of being renewed or extended so that it lasts more than one year to be considered as a timeshare. There is usually a yearly maintenance charge to pay, as well as the fees for the use of the timeshare. 
---
What is a Holiday Club?
A holiday club is where the consumer pays a yearly membership fee which allows them to book and pay for holidays through the club at a discount. These are not normally tied to a specific property or location and the consumer can choose from multiple locations. The consumer may also purchase credits that can be used to book accommodation or can sometimes be used to purchase shows, tours or other activities
---
EU Legislation on Timeshare and Long-Term Holiday Products
The EU regulates aspects of timeshare, long-term holiday products, resale and exchange contracts. The regulations extend the scope of previous rules to cover:
Long-term holiday products (e.g. holiday clubs)
Shorter term contracts [all purchases for a year or more, including tacit renewal of shorter periods]
Timeshare-like products [ e.g. timeshare in canal boats, cruise-ships and caravans or timeshare contracts for less than three years (previous legislation only covered periods of three years or more) ]
Resale and exchange of timeshare schemes
 Key points of the Directive:
Full harmonisation across the EU
Detailed rules on pre-contractual information
Cooling-off period is 14 calendar days, with no cancellation costs incurred. No reason has to be given
Prohibits traders or any third party from asking consumers for deposits, advance payment, guarantees or reservation of money during the cooling-off period
Specific payment rules for long-term holiday product contracts
Any linked loan or finance agreement is automatically terminated if the consumer cancels
Timeshare and long-term holiday products must not be sold as an investment
Contracts must be in an EU language of the consumer's choice
---
What effect does Brexit have on these Rights?
The EU directive was incoporated into UK law in 2011 under the Timeshare, Holiday Products, Resale and Exchange Contracts Regulations 2010 and so UK consumers remain protected even beyond the UK's exit from the European Union. 
---
Top Timeshare Tips from the UKICC
1. Beware of Aggressive Sales
Timeshares and holiday clubs are often sold using aggressive techniques (many of which are illegal in the EU). For example, holidaymakers may be offered a scratch card which invariably wins a prize. To get the prize, they are lured into a commercial presentation and pressured into signing a contract on the spot. Be wary of people approaching you on the street whilst on holiday.
2. Be Cautious of Timeshare Resale Offers, or Sketchy Claims Companies
Some timeshare resale companies offer to resell your timeshare for an upfront fee. Once the fee is paid, sales rarely take place and, where they do, it is often at a selling price that barely covers the fees. Timeshare sellers may also try to persuade you to buy another property, saying that they will sell your current property. Often, these sales never happen and you may be left with ongoing liabilities for two timeshares! You may also receive calls from companies offering assistance with the termination of a timeshare or holiday club contract or offering support in claiming compensation for the misselling of a timeshare. This usually comes with a substantial cost.
3. Contract cancellation: holiday clubs
If you have already signed up to a holiday club and want to cancel, check the terms of your contract carefully and request cancellation immediately. If you are not sure whether you are covered by the new 14-day contract cancellation period for timeshare, get in touch with us.
---
Scams
Whilst we are unable to confirm whether or not a company is legitimate, we are aware of a number of scams operating in the area of timeshares and holiday clubs, and, while we can not usually state with certainty whether or not something is a scam, we would advise that you be wary of the following:
 Being contacted out of the blue;
 If the offer sounds too good to be true;
 Being asked to pay money upfront;
 Being given deadlines in relation to the offer.
If you are looking to exit a timeshare agreement, we recommend first writing to the timeshare company to establish whether or not you are able to surrender the timeshare. It is often possible to come to some arrangement directly with the trader.