Writing a Complaint Letter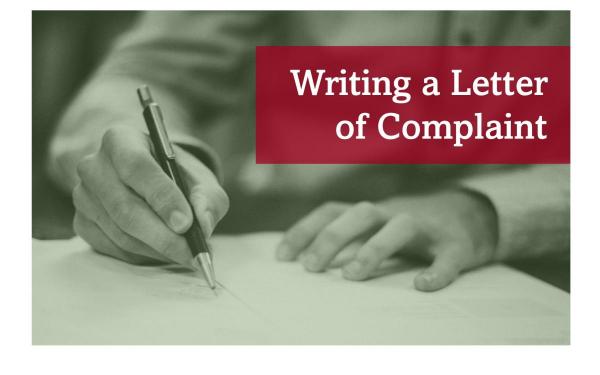 If you have a problem with goods or services you have purchased from a company we would urge you to write a letter to them to ask for a resolution.
---
What Makes a Good Complaint Letter?
If the phone you purchased becomes faulty or your broadband service is not what was promised writing an email or a quick call to the company in the first instance is all that is needed to resolve the problem quickly.  No matter how small or big the problem may be the quicker you get to making a complaint the better the outcome should be.
However, if the trader does not respond to you - or their response is not what you where looking for - we would advise sending a letter, preferably registerd post with proof of delivery. You should keep a copy of this letter for your records. The letter should be written in a clear, polite and positive manner.  There is no need to use big words and no need to add unnecessary filler, less is more!
A good complaint letter should follow these 4 steps to provide a clear indication of how you would like the trader to resolve your problem:
1. Background
The aim of this part of the letter is to provide all the background information of the situation, showing the trader why they are being contacted. You will need to provide some relevant information:
What were the goods purchased?
When were the goods purchased?
Where were the goods purchased?
How were the goods paid for?
If you have been provided with a reference number, this needs to be included too. It would be advisable to enclose copies of any receipts or invoices (never send the originals).
2. Problem Description
Now we need to make it clear to the trader what has gone wrong - what the problem is. This needs to be clear and informative - it may be easier to do it in a bullet point style, listing the problems. The following information needs to be included:
Description of the problem
When did the goods/service go wrong?
How have the goods/service gone wrong?
If you have any proof of the problem, for example an independent report, it would be advisable to enclose a copy in your letter.
3. Tell Them What You Want
This part of the letter allows you to tell the trader what it is you want or need to resolve the problem. You need to be reasonable in your request and to be able to justify why you are asking for it. It is important to realise the limits of the situation and the law.
If you are aware of your legal position it would be advisable to include this information in the letter.
4. Give a Deadline to Respond
To finish the letter off, you need to provide the trader with a deadline to respond to you. This deadline needs to be realistic and reasonable, taking into account where you are sending the letter to, weekends, and bank/public holidays. Often a reasonable time could be 14 days, but it does depend on the situation.
---
Topic-Specific Template Letters
You can find links to pre-formatted template letters for a selection of our most popular queries here.  Please contact us if you need advice on your rights.