Everyone hopes they won't get ill on holiday, but if it does happen, then this page will give you the information you need on what to do.
A European Health Insurance Card is a useful companion on your travels in the EU.
A valid European Health Insurance Card (EHIC) gives card holders the right to access state-provided healthcare on temporary stays in other European Economic Area (EEA) countries or Switzerland.
Treatment should be provided on the same basis as it would be to a resident of that country and is provided either at reduced cost or, in many cases, for free. The EHIC covers treatment that is medically necessary until the card holder returns home. This includes treatment for pre-existing medical conditions.
The EHIC is not an alternative to travel insurance. It is important to have both an EHIC and a valid private travel insurance policy in place before you travel.
Entitlement to an EHIC (in all EEA countries) is based on insurability under EU law, and not on a person's nationality. The UK operates a residency-based healthcare system which means that insurability in the UK is generally determined by residency and not by the past or present payment of National Insurance contributions or UK taxes.
If you are ordinarily resident in the UK then it is likely that you will be considered to be insured by the UK under EU law and will be entitled to a UK EHIC.
Beware of scam websites!
An EHIC card is FREE but some services charge to help you apply. These are unnecessary and it's important for UK consumers to know that they do not need to use them.
From time to time the UK International Consumer Centre gets a spate of complaints from consumers who have been charged for making an EHIC application. You can apply for an EHIC by contacting the NHS or via the official EHIC website free of charge.
The practise of charging for services that can be obtained free of charge is NOT prohibited in any way. The UK International Consumer Centre urges consumers to ensure they use the official source if they want to prevent payment of unnecessary fees.  The NHS website currently looks like this (December 2018)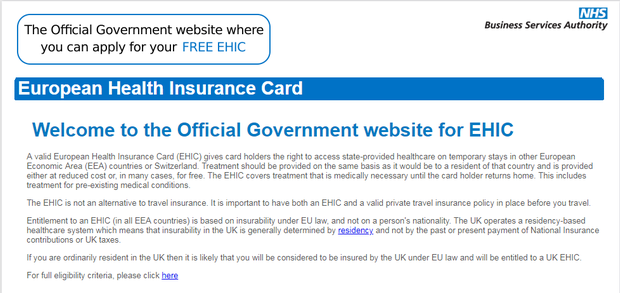 Here is what you should do to make sure you are protected against medical bills on holiday:
Make sure you have applied/renewed for your EHIC card from the NHS website before you travel.  Do remember that there are copycat websites on the web that charge for this FREE service!  Avoid unexpected bills and use the NHS website only!
Take out appropriate travel insurance to cover you for any medical requirements in your specific destination.
Make sure that you or a family member communicates to the medical practitioner that you require state care as private care is not covered by EHIC.  Some countries will have private emergency departments that they take patients to unless they ask otherwise.
Travel Insurance
We advise that you take out travel insurance as soon as a travel booking is made as this is because your cover starts immediately. This ensures that you are covered if there are disruptions to your trip before you are due to travel. 
Coronavirus
The outbreak of Covid-19, the disease caused by the coronavirus, has resulted in a large scale disruption of travel plans all across the world.
In some cases, consumers are able to claim refunds of their flight and hotel costs but may be left out of pocket for other costs associated with the holiday. This is where travel insurance comes in handy. Your policy may cover you for reimbursements of expenses that you are unable to get a refund for and it is worth checking the terms and conditions to find out what you can claim for and how to claim.
We are aware that many travel insurance companies are not paying in light of coronavirus and if you feel that your insurer are in breach of their terms and conditions, we advise that you complain to them directly, using their complaints procedure. If that fails, you can escalate your complaint to the Financial Ombudsman Service who can assess your case independently.